How My Soap Company Sold Over $30k in Soap in the First 3 Months
It's no secret that launching a new business poses its challenges. I've said it time and again: getting off the ground is the toughest step.
Earlier this year, I returned to my roots with the opening of a storefront in my upstate New York town. We welcomed our first customers in mid-May, and even though we launched during the traditionally SLOWEST season (yes, the summer slump!), we still achieved over $30,000 in revenue during our initial three months.
This didn't happen by sheer luck! I implemented the very strategies I advise our clients and students to use in our programs.
Eager for an insider's view into the strategies and tactics underpinning our initial success? Let's dive in.
Market Research and Pre-Planning Saved Our Finances
Like I teach students in Soapmaker to Moneymaker, before spending a dime on this business expansion, I sought to deeply understand the market I was venturing into and the niche I wanted to fill. The insights we gathered ensured we addressed a market need from the outset. Two core principles guided our brand development:
A local storefront offering a chic, fresh, and contemporary experience for tourists, college attendees, and local denizens.
A unique manufacturing solution providing soap with textured tops, reasonable minimums, and premium formulas.
Our brand's launch zeroed in on these focal points, and any time we veered off, we promptly refocused. This approach ensured we never squandered resources on fleeting "what if" or "shiny" ideas.
Branding Goes Beyond a Logo
Our story isn't just about the soap; it's about intentional and inclusive self-care that doesn't have to be boring or bland to be good for you (and your soul).
There are soapmakers everywhere, but our product isn't the same and that helps us stand out from the crowd for the people we cater to. We're not for everyone (our prominent Pride flag outside our store in a majority red county says so!)
Focus on Where the Customers Are
Ever heard the phrase, "Fish where the fish are?" It's absolutely relevant in the business realm! Why waste energy seeking customers in the wrong places? Getting the business visible where our people were was a top priority, but since we have two target markets that means we followed two paths:
Local Marketing: We've focused on optimizing our website for local SEO and ensuring our Google business listing remains fresh and appealing. Tools such as Yelp, local business directories, and geotagged social media posts have been invaluable. Yet, the most significant boost came from active participation in local Facebook groups and collaboration with nearby tourism organizations.
Contract Manufacturing: For this segment, we predominantly tapped into our existing clientele, revisited past clients, and expanded our business networks. Participating in business events, affiliating with relevant organizations, and maximizing social media's potential proved invaluable.
Genuinely Commit to Your Success
Banking solely on free advertising has its limits. If you're serious about results, you've got to invest (and not in more supplies).
We used a huge number of paid advertising options like Facebook/Instagram ads, Google ads, local newspapers, and even Yelp promotions. Each platform offered a unique way to reach our target audience, and it all fits into the marketing machine.
We also hosted a few pop-up events so we could provide an immediate physical presence and direct customer interaction. Then, of course, let's not forget product samples. Our samplers (that we sell, not give away!) have been among our top sellers. They're great for feedback and can win over hesitant customers.
We've also been testing working with influencers via multiple platforms and will be sharing more about that in the future!
Prioritize Networking
The age-old saying, "It's not just about what you know, but who you know," rings true. Being new to our town, I spend a good chunk of my time networking and building relationships in our community.
Building relationships with other business owners, local community organizers, and potential clients can unlock doors you didn't even know existed. Even the services you use daily, like your bank or printer, can provide networking opportunities or referrals.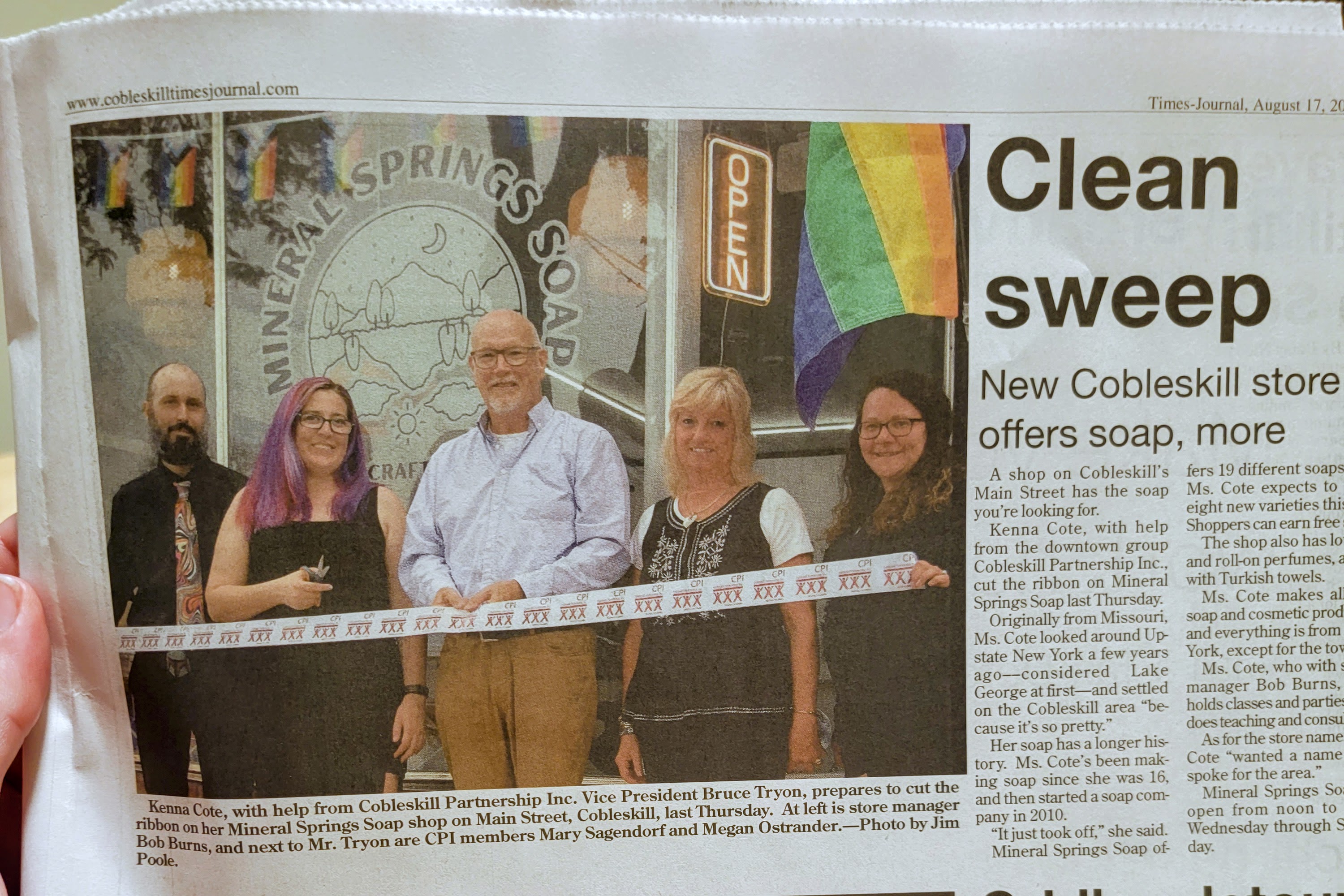 Networking has led to new contract manufacturing clients, free press, and many more opportunities for the business.
Stay Ahead in Marketing and Emphasize Growing KPIs
For newcomers in the market, it's imperative to diligently monitor KPIs (key performance indicators) and adjust marketing strategies accordingly.
For the first few months, we made sure to stay on top of posting on Instagram, updating Facebook, sending email newsletters, and running ad campaigns. Every week, I reviewed the data and made adjustments.
Average order value (AOV), purchase frequency, and traffic are the metrics we pay the most attention to. They give us insight into our business health, and what's working and what's not, but we also know that if we can increase ANY of these three metrics, we'll see an increase in revenue. It's the fastest path towards growth.
Operate Like a Business Owner, Not Merely a Soapmaker
It's intriguing to witness how this mindset unfolds within my team and even myself. The product decisions aren't influenced merely by our preferences or novel ideas, but rather by market demand.
For instance, what product to make is not about what we like or what fun idea we have, it's about what will sell. Full stop. We are careful to spend as little time in production as possible (even as a contract manufacturer!), and we only make products in big efficient batches. It's all about the bottom line.
What's on the horizon?
More nuanced strategies and continual enhancement.
We're sitting at Level Two on our Core Compass Framework as we get ready for the 4th quarter and we're feeling it. So we keep focusing on improving our systems, upgrading equipment to make us more efficient, expanding the team to help fuel growth, and staying on top of marketing.
Our $30K in the first three months of being open isn't a fluke or a cheat code, it's a testament to the power of meticulous planning, educated and informed strategies, and passionate execution. The journey of our soap company is just beginning, and with the foundations we've laid, we're excited about what the future holds.
If you're inspired to kickstart your entrepreneurial journey, remember this: It's not just about the product but the value, story, and experience you provide. And we're here to help you when you're ready.
Learn how to build a successful and sustainable soap business with our Soapmaker to Moneymaker program. You get in-depth strategies and hands-on support every step of the way. Click here to find out if Soapmaker to Moneymaker is right for you!
Want us to free you up to focus on the business by making your soap for your brand? We love private label soap and custom manufacturing! Get all the expertise without any of the work. ;) Click here to find out more about our manufacturing services.
Want to snag weekly advice on building a successful soap biz directly in your inbox?
Of course you do! Sign up for our newsletter below for more tips and tricks to make bank in your biz.